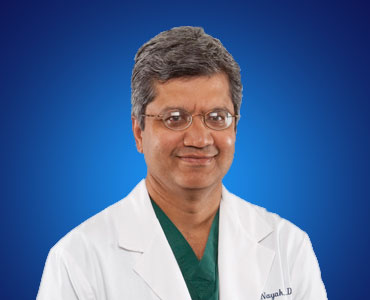 Dr. Naresh Nayak, M.D.
---
Dr. Naresh Nayak, M.D., is a fellowship-trained orthopaedic surgeon who is a strong advocate for educating and advising his patients on the most appropriate treatment options for a wide range of orthopaedic conditions. He is a seasoned professional who has used a vast array of skills to enable individuals to recover from orthopaedic injuries and conditions.
Dr. Nayak attended medical school and orthopaedic residency training at the University of Western Ontario, London, Ontario, Canada. He was blessed to train under excellent teachers including Dr. Richard Hawkins, Dr. Peter Fowler, and Dr. Harvey Bailey. He was honored to be fellowship-trained in adult reconstructive joint surgery by Dr. Cecil Rorabeck and Dr. Robert Bourne. He did further studies in orthopaedic surgery in Sydney, Australia and Graz, Austria.
He was taught what was most important in life by his mentor and father Dr. K.P. Nayak. He is a Diplomate of the American Board of Orthopaedic Surgery, Fellow of the Royal College of Physicians and Surgeons of Canada, and a proud member of the Alpha Omega Alpha Honor Medical Society. Dr. Nayak has practiced orthopaedic surgery in the the Mid-Ohio valley for over twenty years.
---